GURU TONIC is a quartet of virtuoso musicians from Chicago who have toured and recorded with a who's who of music legends including: Aretha Franklin, Ramsey Lewis, Layla Hathaway, David Sanborn, funk pioneer Steve Arrington, jazz-fusion guitar great Al DiMeola, Lionel Hampton, blues legend Buddy Guy, Von Freeman, Wycliffe Gordon, Dee Dee Bridgewater, Freddie Hubbard and Grover Washington Jr. 
These super-sidemen have come together for the very first time to create an exciting blend of original music and cover songs that combine the language of jazz improvisation with funk, soul and fusion grooves. Their self titled debut CD was recorded live at Chicago's Blue Nocturne Club On August 31,2019.
Chuck Webb - Electric bass, Acoustic bass, Electric upright bass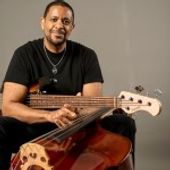 Chicago native Chuck Webb began his musical journey as a violinist at age 8 and switched to bass clarinet at 10.  He fell in love with the bass guitar soon after and eventually attended The University of Miami where he majored in studio music and jazz and music merchandising.  Chuck has toured and recorded with a who's who of modern music masters including: Aretha Franklin, Freddie Hubbard, David Sanborn, Ramsey Lewis, Joe Sample, Al DiMeola, Grover Washington, Jr. and many others.  His solo CD "No Smoke, No Mirrors" has received high praise from jazz critics and fans alike and is currently in rotation on many jazz stations including Sirius XM's RealJazz.
Tom Vaitsas - Acoustic piano, Rhodes, organ, synthesizers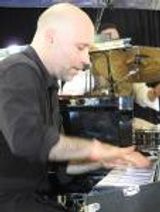 Tom started playing in Chicago in 1992 while working on his B.A and Music Education degrees at Northern Illinois University.  Although school was a great experience, nothing compared to the inspiration and knowledge he received playing on Chicago's South Side music scene  with legendary saxophonist Von Freeman.  From 2000-2008 he toured Europe with blues legends Lurie and Carrie Bell while continuing an active schedule of Chicago engagements.  Tom has performed with Dee Dee Bridgewater and currently leads his own ensembles.
Linard Stroud, Jr. - Drums, percussion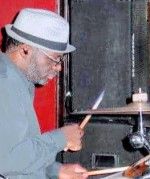 Hailing from a musical family, Linard began playing drums at age 3 with his father at the legendary Chicago Lakefront Drum Circle. Linard has performed and/or recorded with various gospel, blues, jazz and r&b artists such as Lionel Hampton, CC Winans, Jennifer Holiday, Ricky Dillard, Buddy Guy, Syl Johnson and Steve Arrington.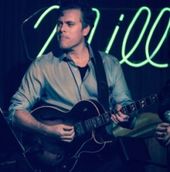 Tim Fitzgerald is a Chicago based guitarist and bandleader. He is also author of the book 625 Alive: the Wes Montgomery BBC Concert Transcribed, which has been hailed as the "Ultimate Study of Wes Montgomery's music" (Just Jazz Guitar Magazine) and "One of the 50 greatest guitar books of all time" (The 50 Greatest Guitar Books). He has written columns for Downbeat Magazine, Just Jazz Guitar Magazine and Chicago Jazz Magazine and performed clinics at the Frank Mantooth Jazz Festival.